Happy National Poetry Month!
Are you trying to write poems this month? Looking for a few choice prompts?
I've been posting multiple prompts per day on
my Twitter
, but these are the 119 (about 17 per day avg.) I've posted as of 4/7/14 at 2:00 PM. Have at! (But don't steal my shit for your buster-ass workshops, yo. Credit where credit is due.)
(Note: If you print these out it's going to be 5 pages long.)
#poetryprompt
Osamacare
#poetryprompt
Trailer park of roses.
#poetryprompt
Guilty displeasures.
#poetryprompt
Frog and Toad are Friends with Benefits
#poetryprompt
Pandora's DJ rig
#poetryprompt
What Atlantis thinks of all your slave dumping
#poetryprompt
Davy Jones' Foot Locker...for all your footwear needs
#poetryprompt
Indian burial sound
#poetryprompt
The Evel Knievel Memorial Expressway and Loop
#poetryprompt
celldrone
#poetryprompt
The Sweet Pickles bus blows a tire near Sesame Street.
#poetryprompt
H.P. Lovecraft, sommelier
#poetryprompt
The Abominable No-Man
#poetryprompt
Yard sale in MIddle Earth
#poetryprompt
An ekphrastic..
http://doctorlaughter.com/wp-content/uploads/2012/12/483476_444983275563372_891914193_n.jpg
…
#poetryprompt
He threw his wife up the well.
#poetryprompt
Stilettos hanging on a wire.
#poetryprompt
The column you - AS YOURSELF - write for the monthly KKK newsletter. (Assuming you don't self-identify as a white supremacist)
#poetryprompt
The house is larger on the inside than the outside. (Make it a love poem.)
#poetryprompt
The angel said, "I can't tell you what Heaven's like. Never been."
#poetryprompt
I want to meet your therapist.
#poetryprompt
You try so hard to stand out that you don't realize you're standing outside alone.
#poetryprompt
None of your advice works.
#poetryprompt
The polygraph test is lying.
#poetryprompt
The airplane's African-American box.
#poetryprompt
What the lawn jockey thinks of the lawn gnome
#poetryprompt
The lawn gnome graduates to gardens
#poetryprompt
God speaks to Tyrone through a burning car
#poetryprompt
The owl that asked "why"
#poetryprompt
The women who wrist-slaps a neighbor's child at the community cookout
#poetryprompt
The next extinction
#poetryprompt
Westboro Baptist Church want ad: vacancy
#poetryprompt
Paula Deen's Next Top Chef
#poetryprompt
The one-legged pirate fears not your diabetes
#poetryprompt
The black Victorians show up for tea.
#poetryprompt
The text message you sent went through.
#poetryprompt
Bob Ross paints not-so-happy trees. In fact, they're downright manic depressive. With a fan brush.
#poetryprompt
If "The Outsiders" were black. (I know the temptation will be to list out differences. Just write the story, okay?)
#poetryprompt
The Illustrated Man in 3D
#poetryprompt
Your collarbone is all the weapon you need
#poetryprompt
You have no idea, the women I've been turned down by before you.
#poetryprompt
How your grandmother busted up your bracket.
#poetryprompt
Addicted to your sadness
#poetryprompt
Write about what doesn't come to mind.
#poetryprompt
Why "Dark Tower" showed up when I did a search for "Freedom: The Underground Railroad board game."
#poetryprompt
Clash of the Frighteneds
#poetryprompt
The acceptance speech by the Grammy winner of the Liner Notes award.
#poetryprompt
Why Jermaine shines like that.
#poetryprompt
An ekphrastic exercise pic.twitter.com/TXIDg0XpUy
#poetryprompt
Would "The Omen" in the hood even stand out?
#poetryprompt
The Boy Scout merit badges that didn't pass muster
#poetryprompt
The Arts Festival of the Damned
#poetryprompt
Morpheus' kalimba
#poetryprompt
I shouted love at the world and it cried back.......
#poetryprompt
A nature special on the habits of missing airplane passengers
#poetryprompt
Killed in inaction.
#poetryprompt
The Ivy League shiv.
#poetryprompt
The Periodic Chair of Elements
#poetryprompt
How to haunt a ghost.
#poetryprompt
An ekphrastic prompt... pic.twitter.com/ZApm1g6In9
#poetryprompt
A misheard yet earnest song lyric (eg. "Excuse me while I kiss this guy")
#poetryprompt
I've never heard a train over here before.
#poetryprompt
Insert outrage here.
#poetryprompt
Gangsta Lien.
#poetryprompt
A chess master's post-game locker room interview.
#poetryprompt
Playlist of the "Deliverance" banjo player
#poetryprompt
Mamihlapinatapai = look shared between 2 people when both are wishing the other to do something that they both want but won't
#poetryprompt
The 14 saints of barbecue
#poetryprompt
The 7 Unnatural Wonders of the World
#poetryprompt
What passes for miracles here
#poetryprompt
What came before the moment described in your last poem.
#poetryprompt
A reverse chronology of sagging pants
#poetryprompt
My job in decoupage
#poetryprompt
Dr. Heckle and Mr. Hyde
#poetryprompt
The dead come back to life and see the one thing that would make them want to be dead again.
#poetryprompt
Why National Poetry Month is longer than Black History Month.
#poetryprompt
The one Dr. Kevorkian wouldn't do.
#poetryprompt
Teaching a parakeet my poems
#poetryprompt
A wolf in chic clothing.
#poetryprompt
A game of tag in a cemetery
#poetryprompt
What if, instead of taking the red or the blue pill, I just rub your magic 8-ball of a head?
#poetryprompt
Two children play "Settlement" instead of "House."
#poetryprompt
Nostradamus predicts all of my girlfriends.
#poetryprompt
Beauty secrets of the Sphinx
#poetryprompt
Seven times this morning...
#poetryprompt
Man, the librarians in this town are serious.
#poetryprompt
Here's an ekphrastic exercise. If you don't know what that is, google it. You're already online. pic.twitter.com/CGVKXfDkAJ
#poetryprompt
Third eye contact lens
#poetryprompt
The I.T. guy in Heaven
#poetryprompt
A cabinet of only mildly interesting objects
#poetryprompt
The bottle tree keeps the ghosts in, not out.
#poetryprompt
Temple Grandin teaches Floridians how to better kill blacks
#poetryprompt
Bilingual love-making (in English with Elvish/Klingon/etc.)
#poetryprompt
The dog watching the cat kill things all day when you're not around.
#poetryprompt
A closed letter to ____________.
#poetryprompt
The Essential Kanye
#poetryprompt
Strange Vegetable
#poetryprompt
Chest Openings for Beginners
#poetryprompt
I'm not drunk; this is a rum-induced fugue state.
#poetryprompt
Micro-oppressions
#poetryprompt
The first jheri curl speaks.
#poetryprompt
Don't you EVER touch my stereo.
#poetryprompt
Death's hellhounds are dachsunds.
#poetryprompt
What's fat in the city is healthy to your country cousins.
#poetryprompt
Breaking the fourth wall, only to discover...
#poetryprompt
The Dowager reviews your record collection and finds it wanting.
#poetryprompt
The Brothers Grind
#poetryprompt
I'm a read that b*tch, except this time it really is a book.
#poetryprompt
After the ability to read and write hieroglyphics was lost in 5 BCE two theories prevailed as to how the writing system worked
#poetryprompt
If someone attacks you for not being compassionate, kill them.
#poetryprompt
Soylent Black.
#poetryprompt
Urban farm subsidies
#poetryprompt
You need a Kickstarter for your life.
#poetryprompt
Your horrorscope for the day.
#poetryprompt
The same tree in every nature poem.
#poetryprompt
The sommelier for your life.
#poetryprompt
A commercial for the product Bill Hicks WOULD star in. Also: Tom Waits.
#poetryprompt
Tenets of a religion based on a different class than science. Ergo, instead of Scientology try Bandtology or Woodshoptology
#poetryprompt
Removing the mudslide from a local bar menu after the town got hit by a mudslide

by Scott Woods


On the other side of steel fencing,
a shock of red bouquets
guarding a still-green torso,
shielding from autumn its lush memory.
It is a tree of perfect resilience,
autumn snatched in its summertime jaws.
Standing post next to a beige warehouse
in the morning sun, its battle
is brilliant and hard to watch.
A tree not so much planted as commandeered,
both belonging right where it is
and still, more beauty
than that place deserves.
AUTUMN AT THE DEFENSE SUPPLY CENTER


I wonder how I might have been affected by this film if I didn't already know the story of Solomon Northup, how I would have looked for that good-old Hollywood sheen on everything but only found more despair and rawness. "12 Years" is, to put it mildly, an affecting film: its story is brutal, the production executed masterfully, and the acting nearly flawless. It is gut-wrenching not only for its violence but its unyielding weight, the way in which things are observed and lingered over. There is little talk of the conditions of slavery; everything is shown, portrayed in such a way that you may not see some of the actors the same way again. It does away with the kind of conflicted, pressure valve decent white characters that traditionally allow white audiences to remain unscathed of their past almost entirely, introducing such tropes only as history says they must in the interest of truth. If I ever see Michael Fassbender in the street, I'm going to need a minute.

Usually with a film this heavy it's hard to say one "liked it." You say things like, "It was well done" or "They really committed to that film." But "12 Years" one can say is good, is well done, is meaningful, and yes, emotionally debilitating. The film does not add any historical or debatable angles to the cinematic discussion of slavery we didn't already possess. We have seen everything this film presents before, but not this way, not wrought so unapologetically. I pondered if it were the most brutal film about slavery I had ever seen. If it is not, it is very close: it has been many years since I've seen "Sankofa", which was a brutal experience, and I have no desire to revisit it to make this point alone.

Every film about slavery since 1977 has had to compete in the cinematic discussion of slavery with "Roots." While a contest is totally unnecessary, it would be remiss of me to deny that "12 Years a Slave" is better and at one-eighth the length possesses more resonance than "Roots." It is more poignant, more ironically American (which, considering its cast, is irony on top of irony), and it is better crafted, which would seem like comparing the value of a 2013 dollar to a 1925 one, but isn't once one considers "12 Years" uses no more resources than its predecessor. "12 Years" captures slavery in such a way that it feels as if it is the first film of its kind. And while it will not be the last film about slavery that comes out even in the next year or so, whatever comes after it is going to need to find new angles to even begin the conversation. "12 Years" hits the reset button on the subject of slavery in film. More importantly, it is a film every American should see.
It has been some time since I have felt the need to steel myself prior to watching a film. Part of this is being a human being who knows that they're about to encounter something horrific. Part of it is the fact that I get nervous when large groups of white people like a film about black suffering, and "12 Years a Slave" is probably the most lauded film about black suffering since "The Color Purple" (which, honestly, had a lot fewer gaskets to blow than "12 Years" does). I fear why they might find such films "powerful" or "moving." I wonder if what they find moving will mean something else for me as a black person, will affect me differently, will say something about people I thought I knew, or worse, about me. I fear it will expose me too much, make me feel what I did not come to feel, or what I could not hope to predict.


Point: 
The Wire (TW) is one of the greatest shows of all time. Breaking Bad (BB) is also one of the greatest shows of all time. [Please note that for all instances of the phrase "of all time" only covers about 60 years of public-use television history.] 

But TW is an ensemble show, which is a very different animal than BB, which is not an ensemble show*...it is (ultimately) an adventure duo show. The first allows a world of characters to interact, but rarely to dig very deeply into most or any of the characters. Conversely, we end up with a show of even the most deplorable characters ever created doing horrific things that we LIKE, but don't really know. We develop an investment in these characters in much the same way we do sports teams. We like them for the roles they play, but not so much as people.

BB is different in almost every way, even with an impressive array of characters. Because the primary cast is so much smaller (and the pace was, at times, glacial) we were allowed to dig deeply into the primaries' lives. Our investment becomes much deeper and takes on all kinds of resonance that an ensemble very rarely incorporates.

So that's just a mathematical reason why you can't compare the two fairly.

That said, I think it's easy to point out other things that make a show good that might have been done better in one than the other, and I think that in almost any list of determining factors you come up with, BB is going to take most of that list. That said, here's something to consider (and if you know me at all, you knew this was coming): context.

In this day and age, when you can access episodes of shows for near-free at any time of day or night, we forget that some of these shows PREDATE THE OTHERS. When you plot out, say, six – JUST SIX – of the best shows on television in the last 15 years, it bears noting that BB had every other GOAT show to draw from. 

Here's the math:


- OZ (oh, how quickly we forget what real tension is!) = 1997 - 2003

- The Sopranos (which is the BAR, yo) = 1999 – 2007

- The West Wing (the only network show on this list) = 1999 – 2006

- Deadwood (There was and still isn't better dialogue on TV than there was on this show) = 2004 – 2006

- The Wire = 2002 – 2008

- Breaking Bad = 2008 - 2013


It's easy to forget in this whirlwind of DVD releases, HBO Go, Hulu and whatever else we're watching TV shows on except actual TVs, that BB doesn't have much competition at its level these days. I say that knowing that I've been extolling the virtues of Boardwalk Empire for the last month like it's the Second Coming of The Sopranos.** 

So kudos to Breaking Bad and its magnificent risks, stories and successes. It's earned them all, even if it hasn't had a lot to contend with anymore.




* In fact, Jesse's character was going to be killed around season 1 of BB but he was too popular.
** It's not, but this fourth season is amazing so far.
I've always had problems with rankings or comparisons of "The Wire" to "Breaking Bad" because they're two different types of shows. I think it's perfectly fine to say YOU like one over the other, but the minute we try to get remotely empirical about it, we run into some key differences...enough that make comparisons problematic, at least for me.
Note: This is my attempt to create a formal, easily referable answer to a question I get a lot. If this doesn't answer your question, proceed. But if you haven't stopped here first, I would ask that you do so.

If you just want to know when Writers' Block Poetry Night slams in Columbus are, go to the link below. I don't usually assume that when people get in touch with me about Slam it's simply to know our dates because the Writers' Block Poetry Night has a website that already has that information on it. But if that's all you really wanted to know, click the link, good luck, and see you at the show.


If you are interested in poetry slams beyond when they occur and you know little about it, then proceed.

Slamming is a lot of fun - or it's supposed to be - and can be a great learning experience if the poets involved have the right motivations in place when they step to it. So I often ask people what it is about Slam that they think they'd get out of it, or what they want to get out of it before anything else. (PLEASE NOTE: There really isn't a wrong answer. There is only YOUR answer, but it's important to answer it before you start slamming.)

There are three things that Slam is (well, more than three things, but there are three main things):

1 - An act
2 - A network
3 - An artistic tool

There is also one thing Slam is not: a style of poetry. I want to spend a little time on this upfront. Trust me, it's important.

Tip: Don't call it slam poetry.

If you like what you're seeing when you google "slam poetry",just know that the better word for that is "performance poetry" even though a lot of poets you'll find on YouTube that perform really well will have roots in Slam (directly or indirectly). A lot of times people use the term"slam poetry" as shorthand for "poetry performed in more than a rote manner." That's not really fair, and it can actually hurt a poet's development to not make that distinction. For instance, if a poet researches"slam poets" they may never come across really strong performance poets like Jayne Cortez or Amiri Baraka or Maggie Estep or Sekou Sundiata. Or even more traditional poets with really great performance gifts, like W. D. Snodgrass.

If your goals are to release an album or share poetry with people or be relevant outside of your hometown, these are things you don't need Slam to do. Slam might be able to help with that, but the way you do so within Slam most productively is by participating in slams, and that takes time and work and there are no guarantees even performing well will work for you. For instance, if you want to be booked within the national network of Slam venues, they need to know who you are. They aren't going to buy your record or hear about you unless you are a slammer in a lot of instances. But to do that, you have to go where their radars are tuned, and that's typically regional and national competitions. Mind you, while Slam is very large and wide spread, it is hardly the majority of poetry avenues that exist. In most cities, for every slam venue that exists there are half a dozen writers groups, open mics, and readings that cater to poets. Don't even get me started on publishing.

In short, you may not need Slam to do what you want to do at all.

Let's talk some more about why you want to do it. People see videos of slam poets and they think, "Okay, I want to slam!" That's cool, but the thing that you don't see in the videos are the results of an ACT of slamming. Those poets are largely being judged in competitions, and the videos don't show that. Even many of the ones you think are great are not necessarily doing well in slams. The reason why it's important to answer the question about why you want to commit the act of Slam is because you are opening yourself up - not just your art, but YOU - to a competitive process. A lot of people fail that test as artists and as people,and that's the downside of doing the act.

So if you just want to be LIKE Slam poets - write work that operates like theirs, perform the way many of them do, generate the same kind of energy - but without that competitive element dogging your every artistic move, the good news is that you don't need to participate in slams to do that.Just keep doing what you're doing now: watching, reading, listening, and executing.Plenty of perfectly good poets do that.

I really just want to drive home the point that Slam is not a style, but an act. There are a lot of styles in Slam, and while a lot of poets sound and look alike, that has more to do with artistic laziness than it does with what Slam requires. You need not commit the act to look and sound like a slammer, just like you need not publish to be as good as someone with a book.

I'm not trying to convince people not to slam (meaning be in a slam and commit the act of slamming). I think EVERY poet should try slamming at least once just to see what comes out of them in that environment. At the same time, I recognize that it isn't for everyone, and that a lot of people can get burned by it if they step to it wrong.

A lot of people come to Slam with a lot of expectations about what it is and how it's going to respond to them. Then when that doesn't happen, all of a sudden the audience is stupid or sexist or racist, or Slam is stupid and sexist and racist, or the sound wasn't right or they were in the wrong venue. In reality, Slam mostly exposes the poet to themselves, and a lot of people aren't prepared to accept what they find, so they blame other things for the reception of their not-ready poetry.

So the questions are important, and when possible, should be asked before you jump in.
Whenever I'm working on a major project I usually find that some other piece of art sticks in my craw while I'm working on it, serving as a sort of guide. Usually it's a musical album, and since most of my projects involve language, the guidance doesn't directly correlate on the level of instruction so much as attitude or philosophy. When I was working on the chap
Last One Given
this past July, I had Frank Ocean's song "Monks" and the soundtrack for
Three Seasons
on loop. When I did
Autumn
last year I played James Blake's
Overgrown
and Lapalux's
Nostalchic
into the ground. These guides don't tell me what to write, but they do give me extra attitude and more importantly, a license to experiment. When I see other experimental art – and it works - I get hyped.
The new CD, File', is no different. The bulk of the work for it will take place this month, and like most of my other undertakings, I have a guide, though this one is more in line with my art form: Pablo Neruda's The Captain's Verses, which I've read through many times before, but called to me now as I struggle to get off my butt and get to work. Now, TCV is a dangerous ingredient because, really, it's like the love poem bible. Neruda was the king of the modern love poem, and I'm already naturally inclined toward longing and feelings like it, so I have to handle my interaction with TCV like it's hazardous material: the tiniest spill into what I'm doing and everything is ruined. So I'll be cutting it with something musical later. But for now, I am in love with digging back into the master's tome, rooting through its assuredness and its straight pimping swag. It's not what I'm doing in terms of the content of the record (well, a couple of love poems will appear, sure), but the attitude is what I'm really feeding off of: the density of his passages, the resilience of his follow-through, the ego of his emotions.
It is a beautiful homework.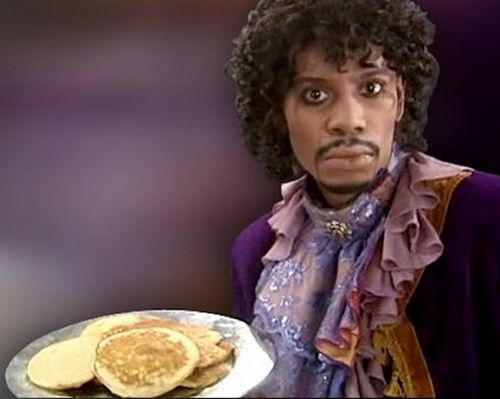 A recent Prince single -
"Breakfast Can Wait"
- is getting renewed attention because it's been released on YouTube out of Prince's camp with an image on its "cover" of Dave Chappelle dressed as Prince from Chappelle's classic basketball sketch. The attention is mostly excited with strains of surprise about Prince's apparent sense of humor. However, any long-term and observant fan of Prince will tell you he's always been a funny dude. Here are ten more examples of His Royal Badness' playful side:
1. "That ain't Lake Minnetonka."
If I have to explain this, you are no fan.
2. The song "Moviestar"
The early music of The Time, mostly written by Prince, featured vocals largely pre-recorded by Prince, which Morris Day would then redo based on Prince's cues. This song never made it onto The Time's roster, but we'll always have Prince's version, which is pretty much hilarious from beginning to end.
3. The dog chewing up bags of submitted demo tapes on the old New Power Generation website.4. The song "Bob George"
Sure, it's a little rough around the edges in terms of its sensibilities, but how funny do you have to be to be able to say about yourself the following lyric:
"What's he do for a living? Manage rock stars?
Who? Prince? Ain't that a bitch?
That skinny motherfucker with the high voice?"
5. The completely unnecessary cough at the beginning of the extended version of "Raspberry Beret".6. Prince's face
Prince doesn't do anything candid; every grimace, stare and lip twist is intentional…and on occasion, he makes some of the funniest mugs of any celebrity out there. The instances in which he shoots a random pang of mock disgust or surprise is made all the funnier by the fact that he very rarely does more than hit you with a Come Hither face. He's probably one of only a handful of people anywhere who practices staring. See the video for "Kiss" and just about all of Under the Cherry Moon.
7. The song "Housequake"
A complete James Brown riff gone off the rails, and one of only two times the Daffy Duck voice filter was acceptable.
8. "Wrecka Stowe"
The Prince-directed Under the Cherry Moon is pretty much Prince on comic blast for an hour and a half, but the "Wrecka Stowe" scene is arguably one of the funniest exchanges on film since 1986.
9. Kicking Kim Kardashian off stage for not dancing.10. Prince's 1997 appearance on Muppets Tonight.
I mean, in what world, right? While much of the show is typical guest star stuff, there is one sketch I particular that really makes you laugh out loud: the Muppet Hoo Haw sketch, which is probably the only documented time Prince has ever worn overalls. While a clip of this sketch has since been taken down, you can catch the beginning of it below.
Slam is a community the same way high school is a community: it isn't.