"10 Comic Books They Should Make Into Movies Now That Watchmen Has Proven That People Will Pay For R-rated 'kiddie fare' "
When I collected comics regularly I was always drawn to the darker stuff. Superheroes are cool and the comic industry has done some interesting things with them in the last twenty years. Hollywood caught on a lot faster than the comic industry did that the material could use some edge if it were to remain viable, and so we got more mature, well-rounded renditions of Batman, the Hulk, Iron Man and the X-Men for our trouble (all good films in one way or another). Even before
Watchmen
came out this weekend and changed the comic book movie game, Hollywood seemed finally content to let the geeks who generate this stuff handle the scripts, sit in the directing chairs and make everybody happy.
But now that it's clear that people will sit through a three-hour, R-rated comic book film that doesn't have to have Gleek the Space Monkey in it to sell Happy Meals, the door is wide open for a whole slew of comics that, until now, were deemed un-filmable.
Here is my list of 10 comic books that I would love to see get the treatment...and they're ranked for your arguing pleasure!
10) House of Secrets
Not the kooky EC comics rip-off version, but the Steven Seagle written one that takes place on the grunge scene and has the ghost tribunal. This one has the benefit of being super-smart, filled with lots of strong dialogue, and almost no fanboy expectations (since I'm the only person I know who even owns these). Plus, the book has been defunct for years, so it's not like it has to conform to current expectations entirely. There are parts of it I don't even want to see, and I love this book. Also, because of its setting, it would be cheap to make too (except for the flashback scenes, so maybe not so cheap). A worthy, human film...that happens to have good old-fashioned ghosts in it.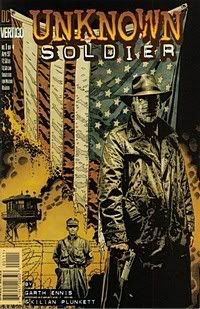 9) The Unknown Soldier
How timely would THIS be in these patriotic times, right? Mind you, I'm a big fan of the Garth Ennis mini-series, and I think that's a great skeleton to make a movie off of. You'd have to add to it so that there's better resonance (do a smash news reel thing in the beginning or something), but if you took the mini-series as is once you got it going, you'd be gold. Fanboy expectation would be minimal and the budget wouldn't exceed spy thriller standards.
8) Cages
This may have come out in separate issues, but is in actuality a genuine graphic novel, son. This magnum opus by longtime Sandman illustrator Dave McKean (who directed
Mirrormask
, by the way) is weird and would require some cutting, but it's a stone cold trip. If the comic genre needed an art house flick other than
Ghost World
(yawn), this should shoot to the top of the pile. I'd even let McKean direct it so that it retained its unique color palette and style. Cut some of those fairy tales and focus on the censorship issue and you've got a winner here that would be, hands-down, one of the most beautiful movies you ever saw. I think it could win an Oscar for design if done right.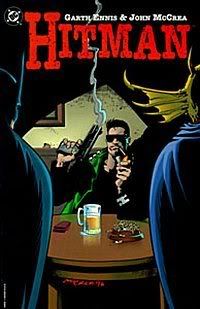 7) Hitman

This book has an Everyman feel to it that would be prescient in these comic book movie-common times.* Put an everyday joe - a guy who comes from a bad neighborhood, likes to hang out at the pub and who happens to be a hitman - and put him smack-dab in the middle of the DC universe where he encounters superheroes (and villains) with regularity. Add some awesome humor, a cast of unforgettable side characters, copious amounts of violence and you've got Hitman. For my money, I'd shoot it in one film, done. Kind of cool that way, I think, considering how the series ends. It'd be a great tongue-in-cheek offering to lighten up the genre before it gets any more emo.
6) Powers
A nice dash of crime noir that happens to have capes in it. The story takes the Common Man approach in its lead detective team and features some really daring stories that are ripe for the big screen. You could make a franchise out of this. It has a way of making epic things seem very small, and has just the right amount of snark and action that a good thriller needs.
Fanboy expectations wouldn't be rabid, but then you need not change it much anyway; this book stands on its own.
5) Transmetropolitan
Blade Runner
in day-glo and with a laptop. A decadent book with political ramifications throughout that might have played better before the era of hope, but still necessary filming. This book tells us to trust no one and no system, no matter how good they look. Maybe it IS a good book for the era of hope! I love Obama, but we must always be mindful that the job never turns out the way any of us thought it would. Spider Jerusalem is the perfect anti-hero to point that out. A sizeable budget would be needed, but if done right, it would be worth the effort. Fanboys would be rabid about it, but I think they need to take a small hit on the chin on this one.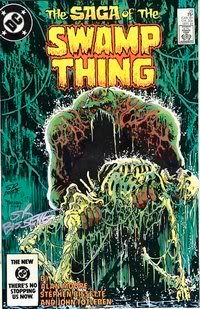 4) Swamp Thing

I know they've done it a couple of times already, but that was when Hollywood was trying to make Swamp Thing an action figure and a corny TV show, not a good movie. Forget those two movies ever happened. I'm not talking about a guy in a rubber suit. I'm talking about that hardcore earth elemental jive, son. Contrary to fanboy wet dreams about continuity, I wouldn't start with the Alan Moore stuff. I'd find a way to use that awesome atmospheric stuff from the last reincarnation by Joshua Dysart (Creepy! Horrific! Gumbo!), THEN go into the Alan Moore stuff (especially that issue when Woodrue loses his junk and the heroes are helpless). That way you build a reason for caring about "The Anatomy Lesson". The straight-to-DVD release of
Man-Thing
had the right idea - an R-rated, atmospheric, non-human elemental that killed dudes dead - but it skimped on the effects budget and a good story (really, a magical swamp shaman? Ugh). This can be done right if someone bothers to read the comics first and crunches the arcs right.
This one also has the benefit of being one of my favorite comics of all time, so if they do it right, I will see it ten times.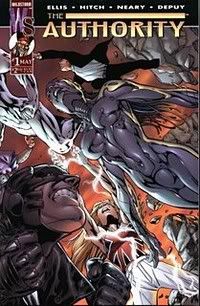 3) The Authority

Imagine the Super Friends if they killed the villains. This one is like
Watchmen
but without the unhappy parts. Tough, raw and epic in scale, this book took comic conventions and, even after a decade or so of increasingly darker books, managed to astonish fans. If you thought
Watchmen
had strong content, this one will make you think twice about what your kids are reading when they go into that silly old comic book store. The one thing that might hurt the chances of this getting made is the same thing that might make it possible to be made:
Watchmen
.
The Authority
revels in its carnage and isn't trying to make the kind of over-arching statements that
Watchmen
does. It will come off as being violent for violence's sake and its critics would be right...but that's why people love it. You need some popcorn violence in your life...so what if it happens in costume? This would be like watching a really gritty
Star Trek
movie.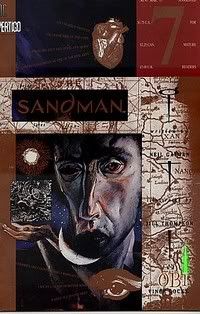 2) Sandman

If there is a comic that represents everything that is possible in a good comic: art, story, covers...the whole shebang, then
Sandman
is it. Arguably the pinnacle of the art form, this is the book that took comics fully into mainstream awareness. Why? Because it was so well written even book readers couldn't deny it. Neil Gaiman was given a crap assignment and he turned it into an instant classic. No one was telling stories quite like this in comics before him and no one has got the knack since. The guy made fairy tales cool and modern, infusing comics with the cultural cache it needed to be recognized for the art form it is. And the stories! The characters! The scenery! It is an incredibly fantastic series about the Lord of Dreams that would make an awesome series of films. I know Hollywood has been kicking this around for years, as well as a
Death
film. Skip
Death
and go right to the source, people. We have the technology now. This is the comic film that movie critics are waiting for. It's gold, like Harry Potter for grown-ups.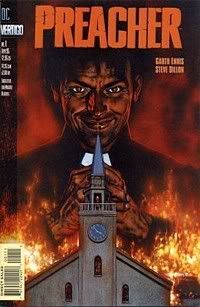 1) Preacher

I'll be the one to say it:
Watchmen
was not un-filmable. Rather, it was only un-filmable until the technology, public appetite and the formation of a true genre of comic-based film caught up to its potential.
Preacher
on the other hand? Now THIS might be un-filmable. It is also one of the reasons I want to see it so badly. Look at that comic book cover. That's the first issue, and yes, that is a burning church.
Preacher
is not a superhero book. Its creator, Garth Ennis, doesn't like superheroes and it shows through all of his work. It's a simple story really, about a man who is suddenly endowed with a power akin to the Voice of God (he can tell people to do anything he wants) and who in turn goes on a journey to find God so that he might discover why the world is the way it is if God loves us all so much. Along the way our protagonist buddies up with his gun-toting ex-girlfriend and a beer-chugging vampire, who all in turn have to face down various factions and conspiracies from both Heaven, Hell and earth who really wish this magical mortal would go away quietly. Sandwiched between issue
#1
and issue
#66
(when the series ended) are some of the most raucous scenes of sex, carnage and comedy ever captured in the 4-color form. It was a series that took comic book audiences by the throat and throttled them in the street with its premise, its characters and its left turns into the morbid. It is one of the darkest exercises in excess and WTF moments in any comic series ever. When people say things like "Man, that
Dark Knight
movie was pretty edgy," I think,
this person has never even heard of
Preacher.
So it might be un-filmable but not for the same reasons
Watchmen
was considered un-filmable.
Preacher
might be more than a typical movie audience can handle. It would be like taking
Tideland
and making it good, while retaining all of its sick, twisted elements...and then throwing religion and cowboy mythology into the mix. If a movie were ever going to be picketed, this might be the one...which to me is all the more reason to make it. It is a powerfully engaging story on numerous levels.
Hollywood has flirted with the idea of making this picture in the past based solely on its popularity as a comic, and a number of actors have expressed interest (or fans have made it seem that way). Samuel L. Jackson was long ago floated as a candidate to portray the Saint of Killers (a character who provides one of the best reasons to pick this title up). I have always hated that idea. I think that idea picked up steam because, back when this series was out, Jackson was what most people considered to be cinema's ultimate bad-ass. And since the Saint IS the ultimate bad-ass, it was a case of "let's bypass the source material on this one and see if it turns into ticket sales". It wouldn't. If we've learned nothing from the comic genre in the last few years it's that a well-done, well-promoted film doesn't need a superstar to make people want to see it. They can even hurt in most cases (budget-wise and in audience detachment). The best and most lauded actor in
Watchmen
is the guy best known for playing Kelly from
The Bad News Bears
. When Heath Ledger was cast as the Joker, people were jumping off of bridges. When Robert Downey Jr. was cast as Iron Man, people were praying for him to get in a car wreck. The formula has clearly become "just get good actors, stupid." (This should equally discount all of the Ben Affleck crap for the lead in
Preacher
. Sure, he looks the part, but Affleck's always playing Affleck and we don't need somebody who can cry on cue for this film anyway.)
I have faith that one day this series will be made into a movie. I have no hope that it will be all that the series is, and that's okay so long as what they do capture is true and done well. I don't know if I need the sex detectives or the meat packing tycoon or the Irish pub scenes in my
Preacher
movie. I do, however, need it to be true.
By the way: it wouldn't be a terribly expensive film to make. It's a lot of real world stuff with the occasional angel or explosion. So really, Hollywood, you could make a killing on this even if it went straight to DVD.
Honorable mentions:

-
100 Bullets
– It'd be an easy film to budget for, but I've learned to hate this comic over the years. Way too inconclusive. Get it over with already.
-
Kingdom Come
– DC's less-racy version of
Watchmen
would be an awesome spectacle, but it has too many characters to build resonance around. Hollywood can barely get films of the main characters right, let alone somebody like The Spectre.
-
Astro City
– Might be too quaint now, but I'd still like to see it.
-
Trencher
– Personal call all the way. The series was only four issues long, but man, what a concept!
* Notice how there aren't any action movies anymore? No action stars? The genre has been replaced by comic book movies. I have theories.
The title should really say: